Content Navigation
Regional and National Affiliations
Local Affiliations and Ministries
Wise Baptist Association
The Food Bank of Norton
About Wise Baptist Church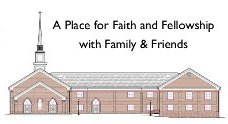 Wise Baptist Church Mission Statement
Adhering to the Great Commission, Wise Baptist Church exists to provide a welcoming place for worship, study, and fellowship, grounded in the Scripture and the love of Christ, led by the Holy Spirit, reaching out to others in a unified spirit of Christ-like love, caring, compassion, comfort, and acceptance.
Wise Baptist Church was founded in 1899. The first pastor of the church was Judge George W. Kilgore. The first building was erected in 1902 but was lost to a fire in 1910. A new facility was built in 1912 and it underwent renovations and additions over the years. In the early 2000's the church recognized it had outgrown the 1912 buildings and the congregation began planning for a new facility across the street. In December 2003 we took occupancy of our new facility. With much thought, prayer, and commitment we were able to complete the upper floor of the educational space much earlier than we had expected. As an expression of appreciation for our heritage and history, the stained glass windows and the lighting fixtures were relocated to the new sanctuary. The old fellowship hall was converted into the youth building and it also serves as a place for small gatherings such as showers and small group Bible studies.
Reverend Mike Winters became the 19th Pastor of Wise Baptist Church in October 2011. He and his wife, Terry, served at Laurel Hill Baptist Church in Verona, VA for 15 years.
Dr. Ray Jones, Jr., retired in April 2009 after 27 years of faithful service to our church, our community and our Lord. Pastor Ray received the honor of Pastor Emeritus by the congregation.
Wise Baptist Church is affiliated with the Virginia Baptist Mission Board as well as the Southern Baptist Convention. We are also active members of the Wise Baptist Association and we support the Baptist Collegiate Ministries at the University of Virginia's College at Wise.