Pastor's Page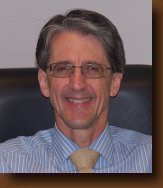 Let me introduce myself. I hope we will have the privilege of becoming better acquainted! My name is Mike Winters and I am the pastor of Wise Baptist Church. My ministry began here in October of 2011.
My B.A. degree in Religion from Furman University was received in 1977 and a Master of Divinity from the Southern Baptist Theological Seminary in 1981.
Prior to coming to Wise Baptist Church, I served in four congregations. These were as a Minister of Education and Youth at First Baptist Church in Benton, Kentucky, as pastor of Bethabara Baptist Church in Philpot, Kentucky, Flint Hill Baptist Church in Moneta, Virginia and Laurel Hill Baptist Church in Verona, Virginia.
My lovely wife ,Terry, is an elementary school teacher.
We have 2 grown children. Brandon lives in Knoxville, Tennessee and Katherine lives in Staunton, Virginia.
Some of my interests include reading, history, and running.
I hope this web-site will help you get to know not only me, but our church, too. If we can serve you in some way, please let us know.
Our greatest needs are to be closely connected with God and people. A great place for that to happen is in a church family. Therefore, I want to extend a personal invitation to you to come for Sunday morning Bible study and worship this Sunday at Wise Baptist Church. God bless you!
Blessings, Mike Winters
&nbsp